Past slackline
Shows / performances / workshops / projects
"Walking the right line" - a motivational talk for the graduates of JardinSuisse-Vaud on the importance of perseverance and determination.
05.07.2019
"Life on the line" - an inspirational talk for
28.06.2019
28 - 30 JUNE 2019
PERFORMANCE HIGHLINE
Fête de la musique 2019
22 Juin 2019
La Tour-de-Peilz, Switzerland
Cette performance était en duo avec une talentueuse musicienne Suisse - harpe et highline.
Cette belle scène a servi de "moment suspendu" lors d'un festival de musique en Suisse. Nous étions tous les deux des mimes interprétant l'histoire d'amour de "Pierrot et Colombine".
La performance a eu lieudea nuit et nous avons installé la highline avec une bande LED bleues, ce qui a eu un effet incroyable sur le public, une astuce vraiment cool à retenir pour les futures performances nocturnes!
Bravo Festival, Mexico
3 & 4 MAY 2019
HIGHLINE & Trickline PERFORMANCE
Bravo is an electronic music festival that transforms the forest into an outdoor dance and culture area. Performing arts, camping and gastronomy, are some of the activities that happen during two days in Valle de Bravo, Mexico. Consciously and sustainably, we celebrate in the forest while listening to more than 20 DJ's of national and international renown.
Le château cantonal Saint-Maire a été réouvert samedi 14 avril. Des festivités ont marqué la fin des travaux de conservation et restauration qui avaient débuté en décembre 2015.
Un slackliner a porté le drapeau vaudois du sommet du Parlement à celui du château.
L'intervention dite «centenaire» qu'a connue le château avait notamment pour but de valoriser des espaces inexploités. Une salle de presse ainsi qu'une cafétéria ont été aménagées dans les caves. Une salle polyvalente vitrée a été créée sous la toiture.
Référence: https://www.vd.ch/lettre_information/gazette/285/index.html
A new circus company!
We are a collective of 13 artists. The show we perform adapts itself to place and environment. Each performance is unique in the sense that the show integrates uniquely into every environment in which it takes place, not only for each number, but also for the audience's experience who travels and moves during show. The comsition of each artist for each show also depends on what the environment proposes and what we then call. If possible all 13 artists participate in the show since it is the most enriching format for the audience. This concept is different from what we are used to seeing and guaranties a show of high quality in all types of "scenes" since we are transforming all possible venues into a stage.
We performed our new Cabaret in Trondheim (Norway) on the 30th of March 2019.
The show includes:
Juggling (by some of the best jugglers in the world)

Aerials (vertical rope & trapeze)

Cyr Wheel

Diabolo (best in the world)

Acrobatics

Handstands

Acting and body movement

Slacklining
The feedback received has been of surprise, a lot of spontaneity and originality. Every person in the audience creates their own story depending ont what the person is going through during the show. This means everyone will have a different experience of the same show.
Trailer and professional photos coming soon!
For further information and booking, CONTACT US !
German Embassy Washington DC
May 2017
Slackline performance
RETURN TO CIRCUS ISLAND 1 -24 Feb 2019
PRE ENVISION TRAINING | SOCIAL CIRCUS | ORIGINAL COMMUNITY VIBES
On a private island off the shores of artistic and exotic Granada, we open our residency doors to artists, yogis and festival fairies to co-create the original Momentom magic of training in circus and yoga, along with the usual skinny dipping sessions in the volcanic lake, cuddle puddles and kitchen salsa jams.
Our goal is to put forward weekly social circus to the local community along with running our usual professional training schedule.

Slackline Show & Course in the school of Baden, Switzerland
Sports day in a school in Baden, Switzerland.
Lyell Grunberg and his sister Lydia Grunberg are both official Swiss Slackline Instructors. Four times a day, the students of the school had the chance to enter the two hour slackline course held by both instructors. The students (age 13-17) had never slackened before and were able to walk a 10m slackline without falling and turning around to walk back after the two hour course. Some of them also started learning some basic tricks.
Lyell performed two trickline shows in front of all the students out over the concrete of the basketball pitch.
"My sister and I definitely work well as team. We were able to bring the students from total beginners to walking and crossing their first slackline. The progression brought by some of the key advices was very impressive."
RedBull Slackships 2017
Red Bull Slackship: The highest Slackline competition ever.
The Red Bull Slackship event takes place in Gdynia, Poland. It is a Trickline competition happening 25 meters high up between the masts of the biggest sail boat on earth.
Lyell Grunberg was one of the 10 athletes invited by Red Bull for this event hosting the best Trickliners in the world.
Result: 4th place
"For many slackliners from across the globe, competing at Red Bull Slackship on board Dar Młodzieży (The Gift of Youth) would be a dream come true. This year, the world's elite of experts in acrobatics performed on Slacklines are gathering in Poland. 10 of the best athletes in the world and one rookie will square off on a 23-meters long Slackline rigged between the masts of the sailing ship at the height of 25 metres. The competition encompasses a few rounds during which the slackliners perform acrobatics while trying to avoid falling down and the judges evaluate three elements: style, difficulty of the tricks, and the height at which they are being performed." .- Red Bull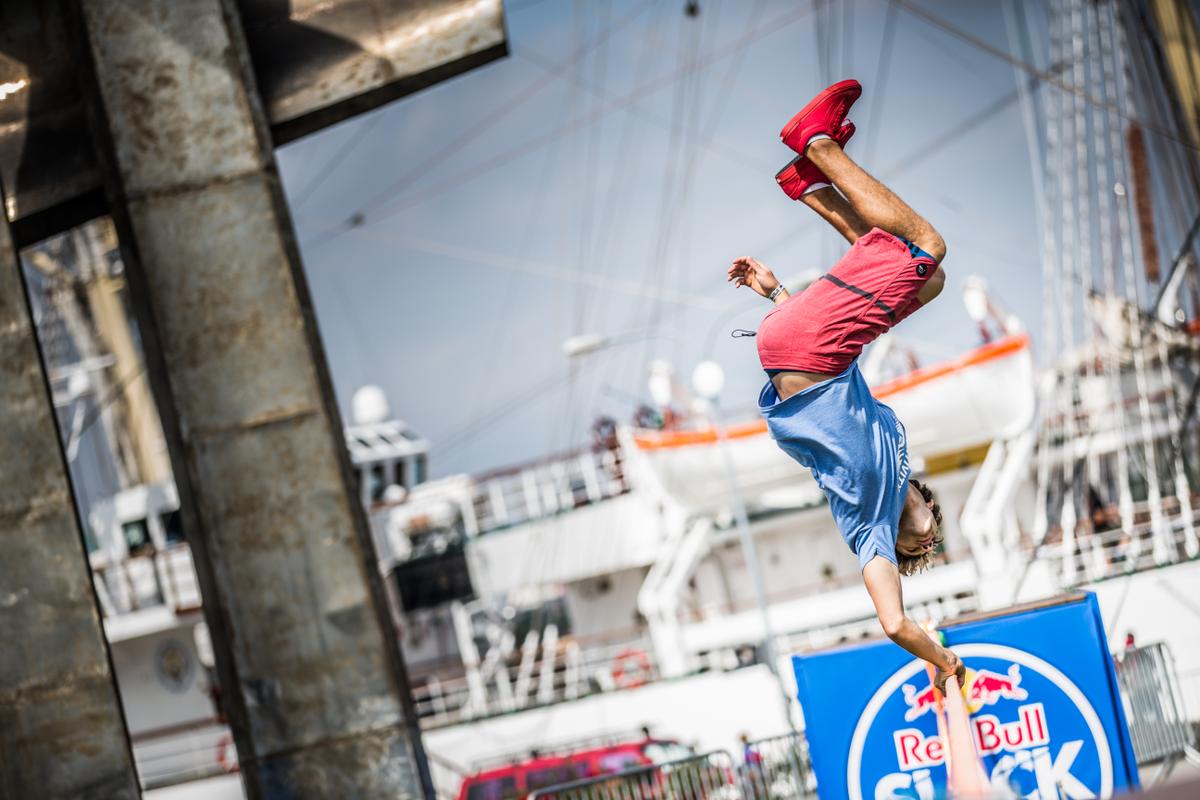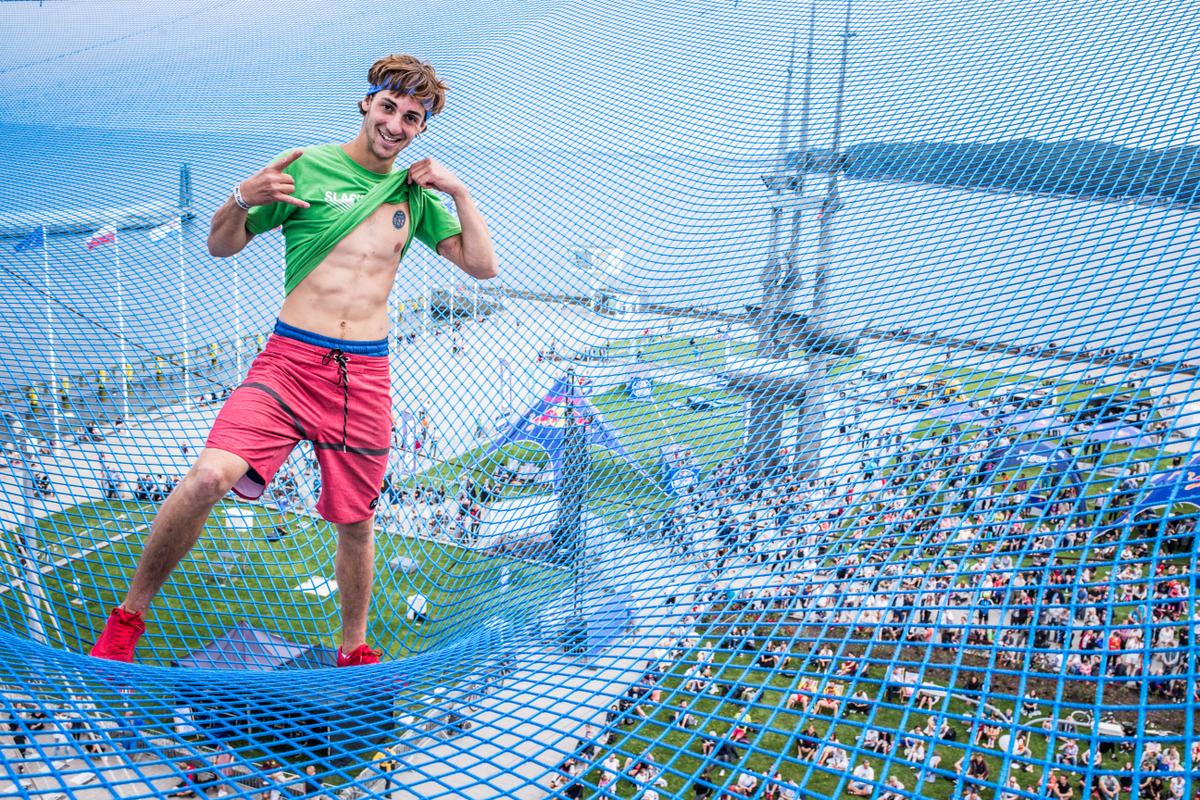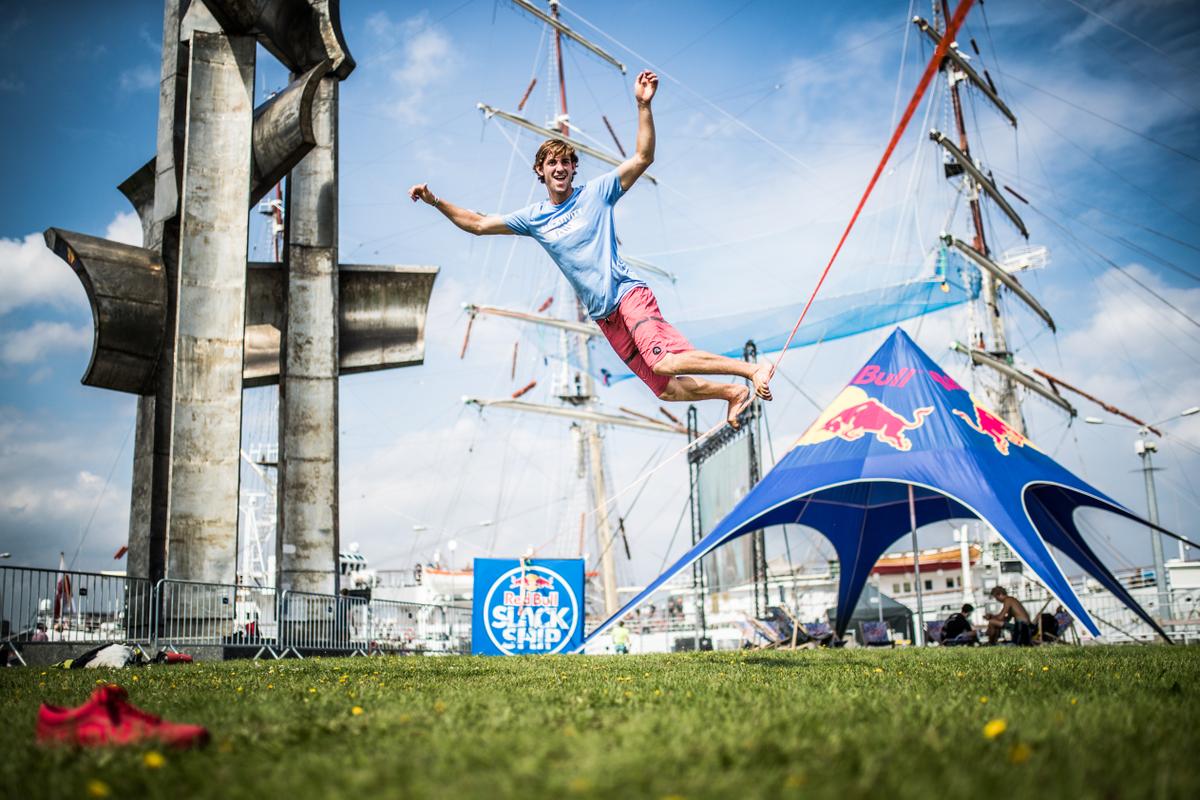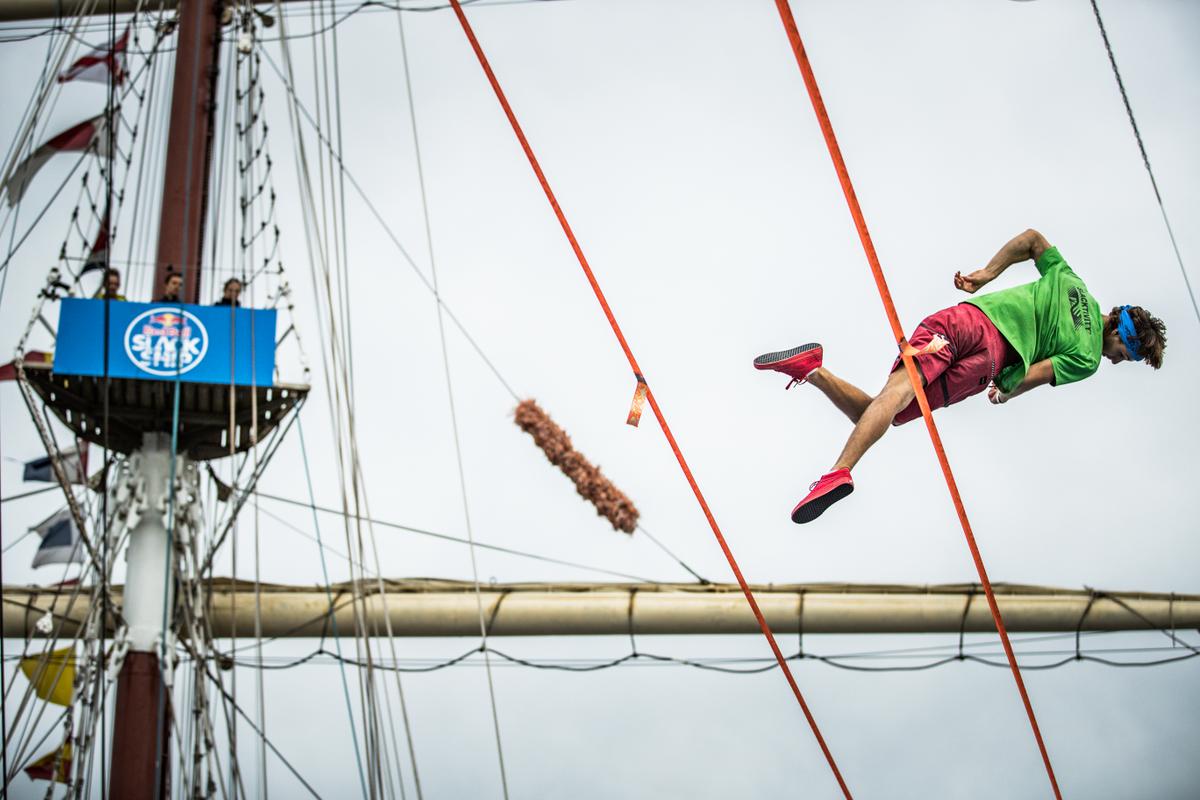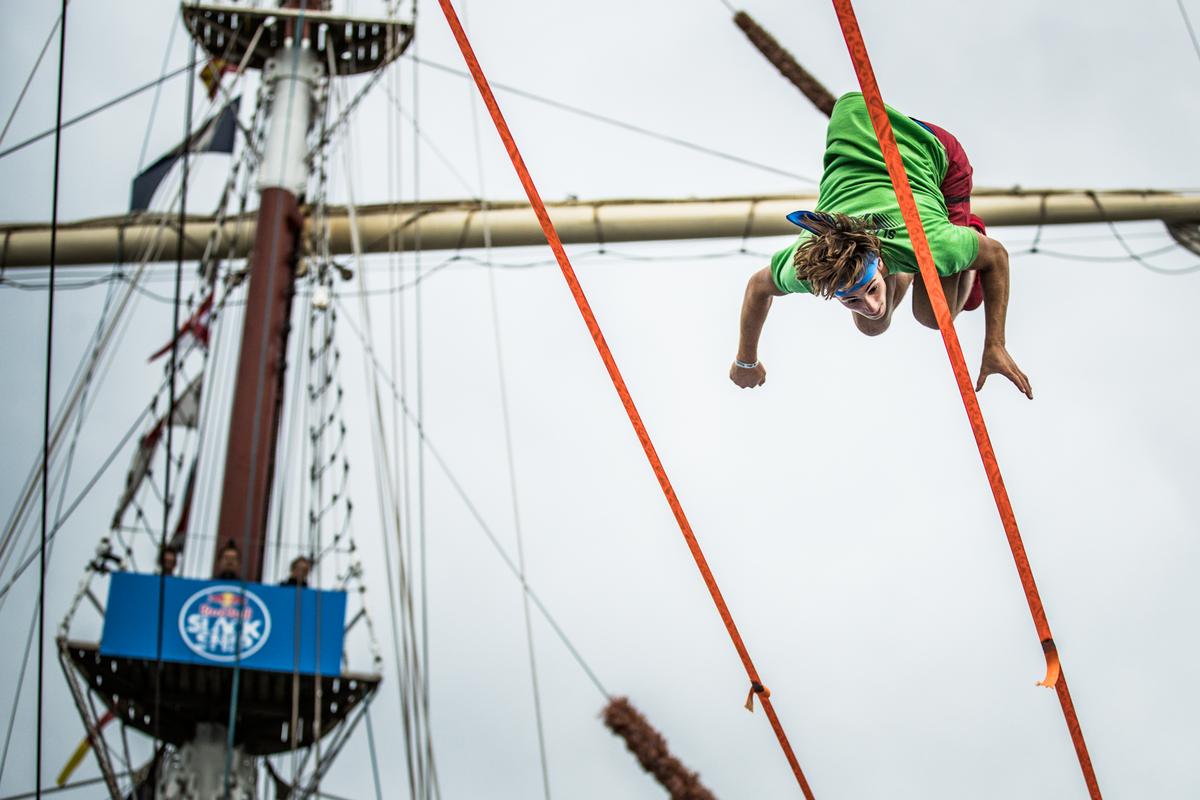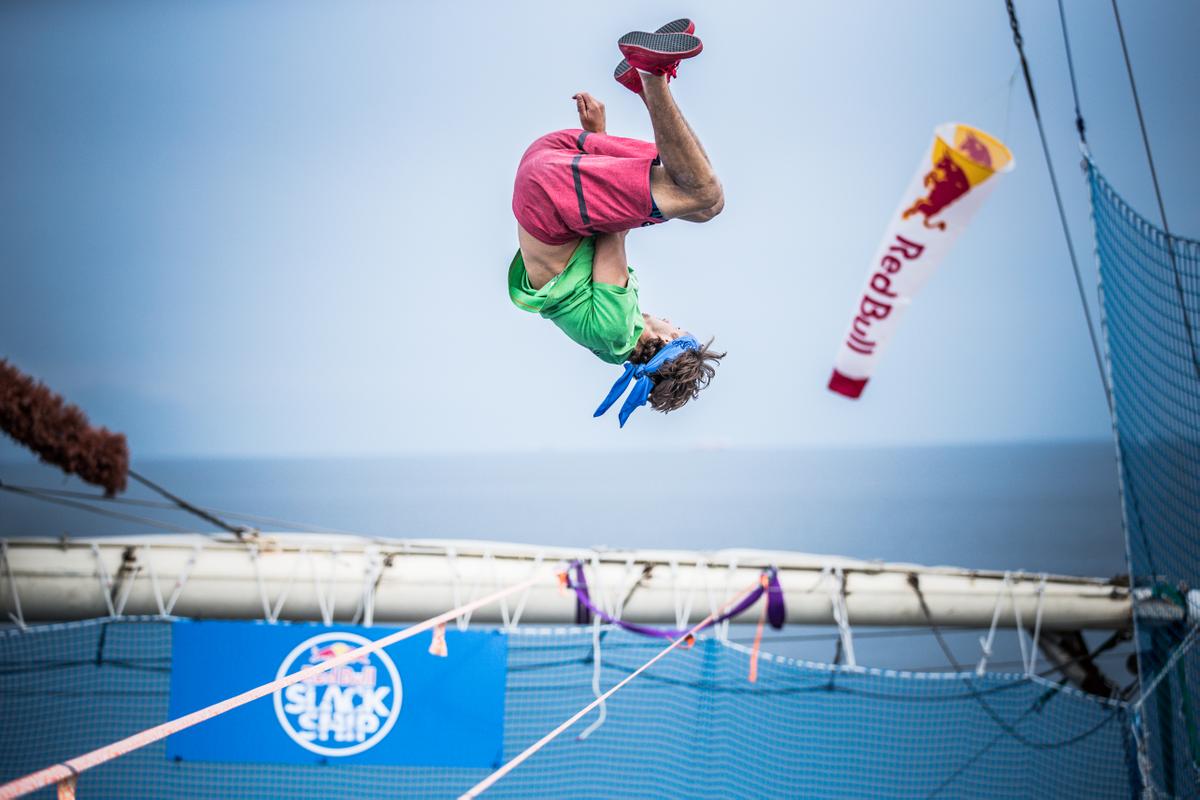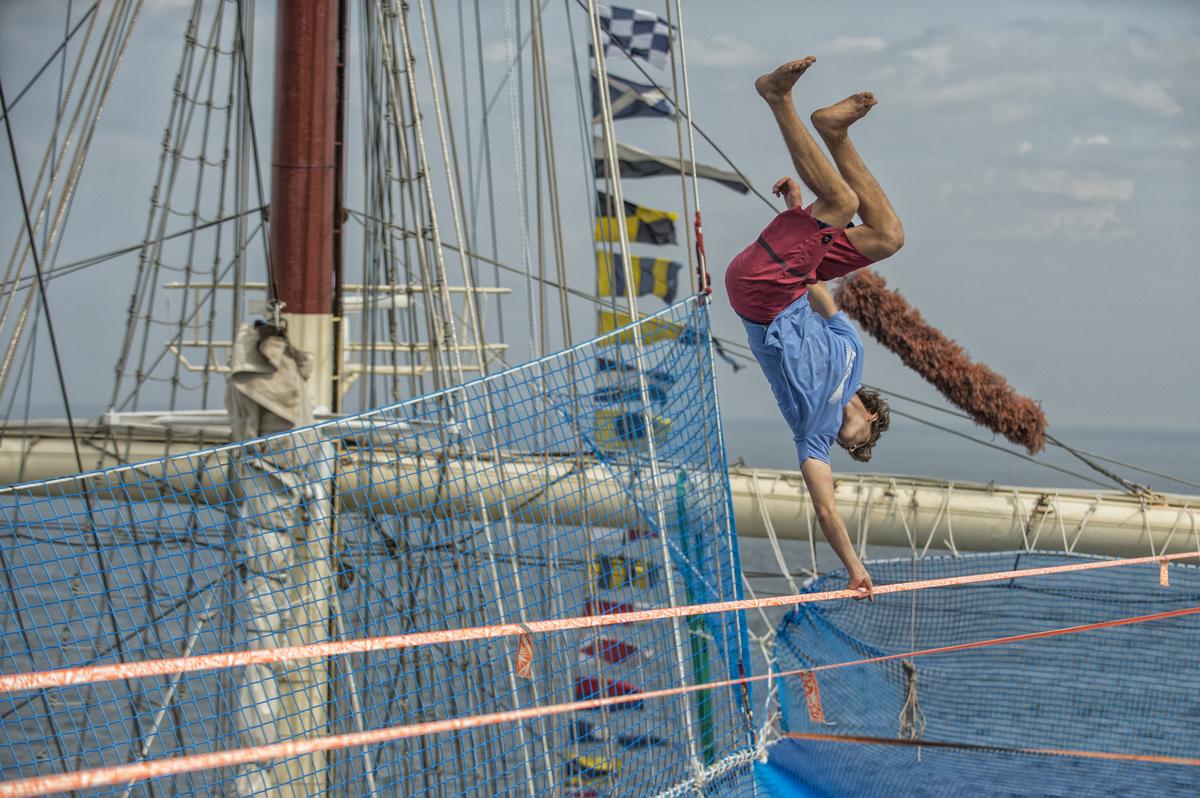 Navagio Beach Highline & Shipwreck Project
Top 10 most beautiful beaches in the world
"Navagio beach" has been rated several times in the top 10 most beautiful beaches in the world. Famous videos like this one or this one have gone around the world. The place has had base jumpers, rope jumpers, climbers, motorcycling and much more… So we left to setup the first ever Slacklines over Navagio beach.
The team was made of 15 people from Greece, Austria, Germany, France, Holland and Switzerland. All over motivated and experienced slack liners ready for this challenge.
A challenge indeed since rising two highlines of 270 meters and 580 meters is not an easy task.
Steps for the rigging:
Bringing 10 bags full of gear to the location

Scouting the anchors

Rigging four anchors (one side take 30 minutes of walking along the cliffs)

Making the connexion with a drone

Pulling the 3mm tagline across the hole bay (we didn't notice it was floating in the water at some point and that a swimmer was playing with it)

Pulling the 270m & 580m setups (main line + backup line) over the hole bay.

Tensioning

Walking!!!
Once rigged, these we definitely some of the most beautiful lines ever. People travel from all around the world to visit Navagio beach. We were standing in a place nobody else had ever been before. Literally gazing down to the beach, 200m above the boats and the people. Every single moment was unique and priceless. The emotion of walking on those lines is difficult to describe. Euphoria is pretty close.
Samuel Volery, Antony Newton, Karin Doblander and Nico … are some of the best Highliners in the world. Their performances on these lines were absolutely stunning.
I also had some of my best runs and attempts of my life. I walked the 270m highline in crazy conditions with very strong winds. The line had a 15m side-sag and I had to fight for every step. I finally walked the line with 5 catches. My best segment was about 180m without falling.
I was so excited and couldn't believe I was able to spend time out there and walk the line full-man (back & forth) and felling in control all the time. This is a level of Highlining that no professional Trickliner has ever reached.
My dream for that day on is to compete at an international level of Tricklining and being part of the best Highliners at the same time, trying to master Slacklining in all it's disciplines.
Aidan Williams, an Austrialian photographer, captured some of the best moments of this adventure. Find more about him here.
Waterline World Record
In April 2017, the Slacktivity team set off to break the world record of the longest slackline over water.
Location : Kalterer See, Italy
The team, with the support of the local authorities and a firefighters team, managed to rig this huge 750 meter slackline crossing the hole lake on a height of 40 meters over the water.
The best part was that the line was 40 meters high and had exactly 40 meters of sag in the middle. We would hang out on a pedal boat right next to the slackliner and speak with him while he was doing his crossing.
Samuel Volery, Lukas Irmler and Tijmen Van Dieren all sent the line, establishing the new record.
The project was featured in several news papers and by National Geographic.
Photos by Cola Petra.